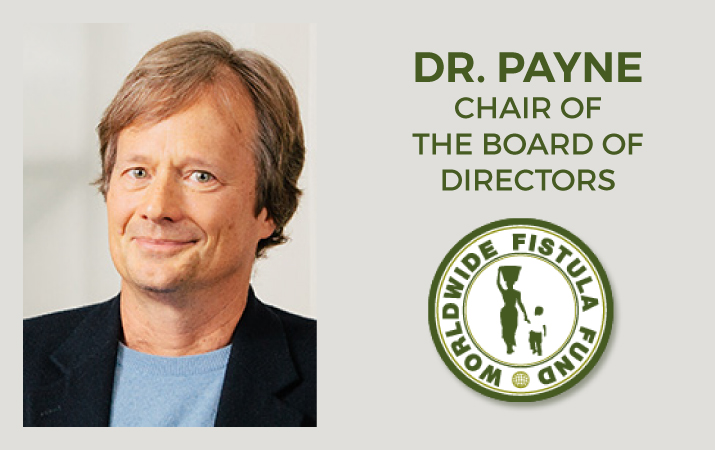 We are pleased to announce that Dr. Payne has been elected President of the Board of the Worldwide Fistula Foundation. The mission of the WFF is: To protect and restore the health and dignity of the world's most vulnerable women by preventing and treating devastating childbirth injuries. Included below is the press release from the WFF:
---
SAN JOSE UROLOGIST NAMED CHAIR
OF WORLDWIDE FISTULA FUND BOARD
Schaumburg, IL – Dr. Christopher K. Payne, local expert in Female Urology, was recently elected Chair of the Worldwide Fistula Fund Board of Directors. He joined the Worldwide Fistula Fund (WFF) in 2012 and has furnished valuable leadership as the organization expands work into new regions of the developing world. Dr. Payne travels to WFF programs in Ethiopia and Niger and provides expert instruction and surgeries each year.
In collaboration with Dr. Itengre Ouedraogo (WFF FIGO certified fistula surgeon in Niger) and other colleagues Dr. Payne recently published two papers related to programs at Danja Fistula Center:
Six month follow-up study of surgical repair of over 300 fistula patients

Report of 10 cases in which fistulas were caused by an unusual type of Female Genital Mutilation.
These papers are available to the public free of charge from the International Urogynecology Journal website for those who are interested in the details.
Dr. Payne will help further the mission of WFF to protect and restore the health and dignity of the world's most vulnerable women by preventing and treating childbirth injuries. Founded in 1995, Worldwide Fistula Fund strategically partners with local organizations and institutions to enable Africans to solve their own problems in meeting their women's health care needs. We support girls and women to recover and build new lives after devastating childbirth injuries.
Dr. Payne is also currently an elected Trustee of the International Continence Society and a member of the ICS Developing World Committee. Originally from West Virginia, Dr. Payne graduated Phi Beta Kappa from the University of Virginia. He earned his MD at Vanderbilt University and completed his urology residency at The Hospital of the University of Pennsylvania in Philadelphia. Following his fellowship in Female Urology, Urodynamics, and Pelvic Reconstructive Surgery at the University of California Los Angeles, Dr. Payne joined Stanford University in 1993 to launch their program in Female Urology and NeuroUrology. He left Stanford in 2014 as Emeritus Professor having published over 100 articles and book chapters during his tenure there.
Dr. Payne co-founded Vista Urology and Pelvic Pain Partners in San Jose, CA where he continues to focus his work in Female Urology with a special interest in urinary incontinence, chronic pelvic pain, and pelvic reconstructive surgery with a special interest in native tissue repairs.
---
Click here to visit the WFF website and learn more about how you can help