About Dr. Potts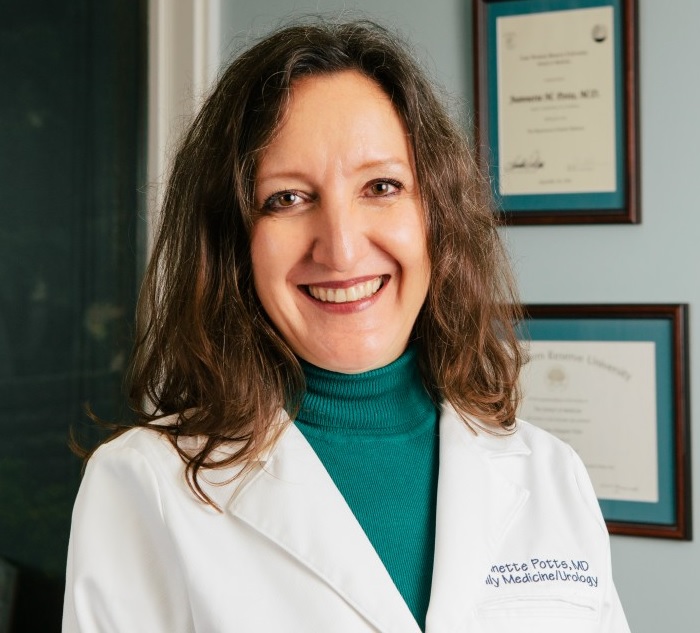 Jeannette M Potts, MD
Co-founder Vista Urology and Pelvic Pain Partners
www.jeannettepotts.com
Dr. Potts was born and raised in northeast Ohio. She graduated from Lumen Cordium High School in 1980 after which she matriculated to Lake Erie College for Women where she received her BA in Science and Fine Arts in 1983. In 1983, she attended the Université de Caen to study French language and civilization and also conducted independent study of Catalan art and history, with assistance from the Generalitat of Cataluña in Barcelona, Spain. As one of only 23 post-grads applying for a Fulbright Scholarship, she was specially selected for the ITT Fellowship for Post Graduate Study Abroad. She spent the following two years conducting anthropological research in Guanajuato, Mexico.
After a brief period working as an exporter of automotive and heavy-duty equipment, she followed her heart and applied to medical school. She attended Case Western Reserve University in Cleveland, Ohio, graduating in 1991. She then completed residency training in Family Medicine in 1994.  At this point her career took a different (and unique) turn when she joined the Department of Urology at the Cleveland Clinic Foundation.  The Chairman of CCF Urology, Dr. Andrew Novick, created a special fellowship in urology for Dr. Potts enabling her to gain expertise in all aspects of office urology over the course of the following year.
Subsequently, Dr. Potts spent 15 years as member of the prestigious Glickman Urological Institute at the Cleveland Clinic, ranked #1 in the US by US News and World Report. Although starting as a general office urologist, she quickly gravitated to Men's Health where she developed several areas of specialization:
A signature biopsychosocial approach to Urological Chronic Pelvic Pain Syndromes (UCPPS).
Prostate needle biopsy strategy and ACTIVE "active surveillance" of prostate cancer.
No-scalpel vasectomy
Before coming to California to join Dr. Payne, she was Director of Pelvic Pain and Alternative therapies in Urology at University Hospitals of Cleveland and helped them initiate a multidisciplinary center for research in chronic pelvic pain.
She is internationally recognized for her expertise in Men's Health and especially for male pelvic pain syndromes. She is an ardent advocate for men and has published numerous articles in urology and family medicine. She has given over 100 lectures on UCPPS and related topics in 18 countries, as an invited speaker at medical and urological conferences worldwide.
She has been a passionate collaborator with the National Institutes of Health and the International Prostatitis Collaborative Network, to advance research and care of patients suffering from Urologic Chronic Pelvic Pain Syndromes. She was co-investigator for the NIH clinical trial showing the benefits of specialized physical therapy for patients with UCPPS.
She is the editor of four urological textbooks published by Humana and Springer Press, as well as author of the book Tango: Lessons for Life, published by Cleveland Clinic Press. Her fifth textbook, Men's Health - A Head to Toe Guide for Clinicians, was released in 2015.
As an artist and physician, Dr. Potts believes the art of medicine is threatened by the growing seduction of certain technologies and the constraint of time on patient visits. Preserving the Art of Healing requires active listening and a mindful touch!
Expertise and Special Interests:
Prostatitis
Urological Chronic Pelvic and Genital Pain
No scalpel Vasectomy
Controversies in Prostate Cancer Screening and detection
ACTIVE active surveillance of Prostate Cancer
Psychosexual well-being